The (Future) Wales Coast Path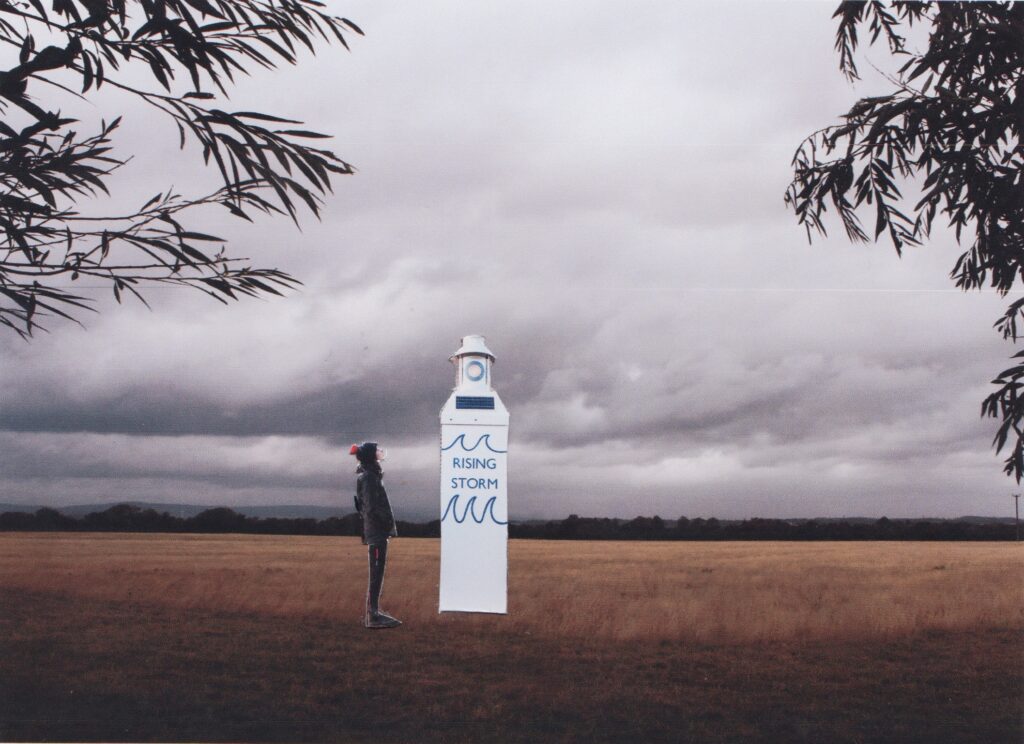 The (Future) Wales Coast Path seeks to raise awareness of the impermanence of the land many of us take for granted, and to open up a conversation about flooding, sea level rise, and adaptation.
It physicalises the future of our shoreline and highlights the habitat, communities, and physical space we may have to say goodbye to. Communities are invited to walk together from the current shoreline to the future edge of the land, to document, share stories, and begin conversations about the future of this place as we seek to acknowledge and adapt to our shifting coastline.
Arriving at the future shore, we meet a lighthouse whose light reacts to tidal data from to a buoy located elsewhere in the world where regular tidal inundation is already a reality. These lighthouses are a warning system, a navigation marker for the future and an indication that we are not alone and can learn from those at the frontline of the climate crisis if we are open to doing so.
Pilot explorations with the landscapes and communities of the Gwent Levels and Newport took place in 2020, supported by National Theatre Wales and Creative Europe. In August 2020 Alison walked the possible future coastline from Chepstow to Newport, alongside local people, researchers, and land managers. A photo diary of this journey and the conversations along the route can be found here.
Pervasive Media Studio recently supported Alison to delve deeper into the international context of the work with collaborators Ken Eklund and Vikram Iyengar – you can see a visual map of their work here and listen to the artists talk about the project here.
Alison hopes to install the first lighthouses in Magor and Newport (partnered with tidal buoys in the Bay of Bengal) in Spring 2021, accompanied by a programme of supporting activity. In the future we may meet more of these lighthouses around the Welsh coastline. Please get in touch if you are interested in public sharings of the work or would like to have a conversation about the project. You can also watch a film introducing the work here.
The (Future) Wales Coast Path was partly inspired by participation in the National Theatre Wales residency Egin in summer 2019, a 2 week artists residency in the Snowdonia mountains which explored the local and international impacts of climate crisis.