Chalk Coracle
Abbotscliffe (Dover/Folkestone) 2022
Part of SALT + EARTH Festival in collaboration with Folkestone Fringe, Creative Folkestone, and Kent AONB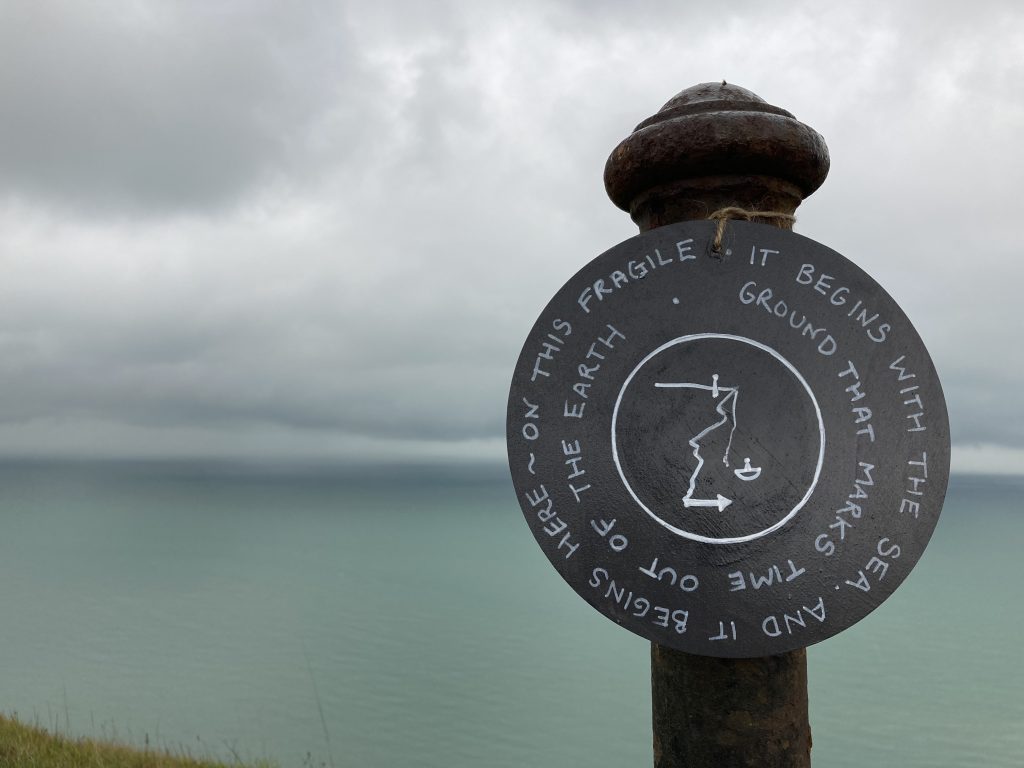 This process began with searching for a way to express the vast amount of time held in the chalk cliffs and trying to understand where we fit in: we tiny humans, almost insignificant compared to the epic scale of chalk, clay, and sea, and yet, making an impact on the earth out of proportion to the time we have been here and to our part in the cycle.
The research journey led me down many avenues: from re-imagining a chalk land bridge connecting us to France (and how different our history and national psyche might be if that were the case); to meeting geologists and land managers and confronting numbers of such incomprehensible magnitude I began to wonder if our man-made system of telling time even worked when the human brain is not equipped to understand so many zeros; and I looked instead to the ways the land and sea mark the passage of time in repeating patterns.
I wanted to physicalise this sense of time and scale on the landscape itself, and to invite people to consider through their own bodies how we relate to the land and sea by literally walking down through time (a journey of several million years from the top to the bottom of the chalk cliffs), and ending at the beginning, at the sea, where they are invited to float in a small boat (a coracle) that offers a new perspective on the journey, the place, and ourselves.
Coracles are a truly sustainable and indigenous craft – found in many countries around the world they are used for fishing and transportation, and are made from locally sourced materials and with local techniques. Their design varies in each place to meet the particular demands of the watercourse the boat will be used on and the material they are made from. Their use dates back around 5000 years, possibly more- since the materials they are made from are fully biodegradable earlier models will have returned to the soil by now so we may never know how far their usage stretches back.  Welsh coracles (Cwrwg or Cwrgwl) are typically made from willow, ash or hazel, with an animal hide cover. Modern versions use a calico cover with a coating of bitumen, although I'm researching whether seaweed based material might work as a waterproof coating instead of using extracted fossil fuel. The little boats are difficult to steer and so I am interested in the situation of the human in a craft that was beyond their control, surrendering to the whims of the tides and currents. 
As we look to the future, we might look at the materials and way of living of our ancestors and try to slow down a little to planetary time to gain some perspective on our place in the world and the impact we are making. I hope the experience of the Chalk Coracle makes space for this.
Explorations into time, tide, and materiality continue…