The (Future) Wales Coast Path
Gwent Levels, Wales and Sagar Island, India 2020-2022 and ongoing permanent installation
Developed with Vikram Iyengar, Dr Emma McKinley and Elen Roberts
Creative technology by Steve Symons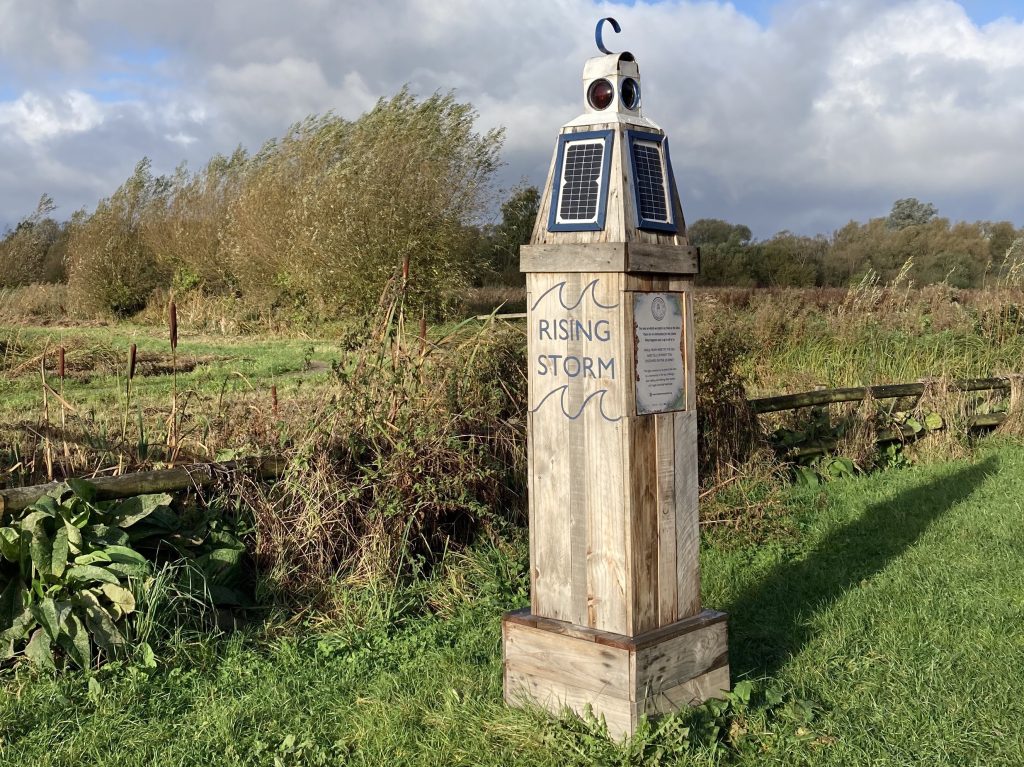 The (Future) Wales Coast Path seeks to raise awareness of the impermanence of the land many of us take for granted, and to open up a local and global conversation about flooding, sea level rise, and adaptation.
You can visit the Lighthouses which are now installed at Newport Wetlands RSPB reserve, and in the village of Langport on the Somerset Levels, and take your own journey across impermanent land from there to the sea.
The project physicalises the future of our shoreline and highlights the habitat, communities, and physical space we may have to say goodbye to. Throughout 2022, communities on the Gwent Levels and the Indian island of Sagar were invited to walk together over a year, between the current shoreline and the future edge of the land, and to document, share stories, and begin conversations about the future of these places.
Arriving at the future shoreline on the Levels (several miles inland), they met a lighthouse whose light reacts to tidal data from to a buoy located in the Indian Sundarbans, where regular tidal inundation is already a reality. The lighthouses are a warning system, a navigation marker for the future and an indication that we are not alone and can learn from those at the frontline of the climate crisis if we are open to doing so.
More information and some of the discoveries we made can be found on the project website and the project film can be seen at the bottom of this page.
Pilot explorations with the landscapes and communities of the Gwent Levels and Newport took place in 2020, supported by National Theatre Wales and Creative Europe. In August 2020 Alison walked the possible future coastline from Chepstow to Newport, alongside local people, researchers, and land managers. A photo diary of this journey and the conversations along the route can be found here. In 2022 the Lighthouses were installed at Newport Riverfront and Magor Marsh and a year of seasonal walks took place, culminating in the creation of a two volume "Guidebook for the Future", featuring maps, walking scores, photographs, essays and reflections by artists and local participants.
Pervasive Media Studio supported deeper exploration into the international context of the work with collaborators Ken Eklund and Vikram Iyengar – you can listen to the artists talk about the project here. The international side of the work developed into a sister project called Inter/Tidal, where a team of artists from Kolkata worked with young people on the island of Sagar and created an exchange with young people on the Gwent Levels.
This project was generously supported by Arts Council Wales, Natural Resources Wales, Severn Estuary Partnership, Gwent Wildlife Trust, Newport Riverfront, Newport Fusion, and many others.